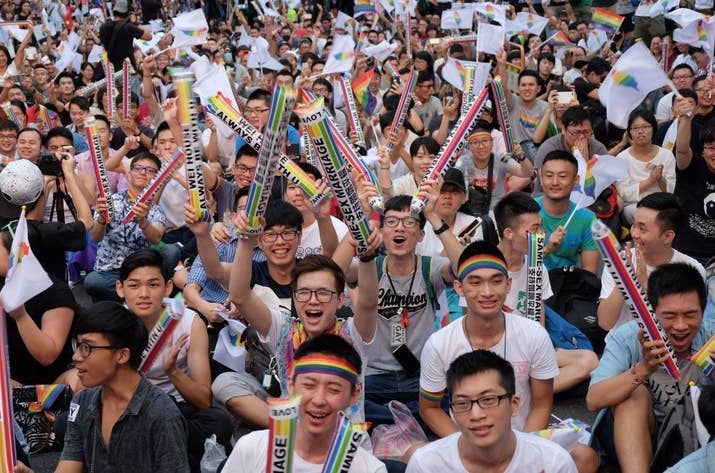 First of all, I want to congratulate Taiwan for taking the first step in legalizing same sex marriage.
It is a great news to show that Asia is actually forward thinking and able to place love above hate.
However, there will definitely be a bunch of people coming up of various reasons to say why it's wrong.
Using God again 
I used to be in the Church, belting out church songs and totally a devoted bible lover. But I was too tired of all the fear they try to conjure out from the book.  Eventually, I went back to Buddhism, the religion of peace and zen. But come to think of it, Isn't Jesus all about love? Why are you guys so obsess about the old testament? If you guys want to talk about the fiery destruction of a sin-sick world. You are the first sinner to received the fire bolt.
The true sin of the Sodomites as described in the Bible has nothing to do with same-sex acts per se. Rather, the ancient Sodomites were punished by God for far greater sins: for attempted gang rape, for mob violence, and for turning their backs on strangers and the needy who were in their midst. In other words, the real sin of Sodom was radical inhospitality. And, ironically, it is often anti-gay Christians who are most guilty of this sin today.
But apparently most of the followers only focus on the "sex". Gay sex is about consent. Rape isn't. That's why they were punished. If God is looking, all the dumbass rapists in Indian have already gotten destruct by the fire sent from above right??
2. Keep quiet and dun talk about it
I can assured you there are still plenty of straight people in this world. And yes, I love your point about overpopulation. We are facing it right now. That's explain the climate change you are seeing on the News everyday. Trust me, it actually will not work. The problem is that even homosexuals want to start their own family as well. Haha! The arrival of baby coming into a loving family is certainly something we can all celebrate together. But my dear, nobody like to be quiet about it.  We want the same things as you have too. A loving partner, a house, hospital visiting rights and maybe kids. By wanting all of that, we are unable to love each other like how you find a prostitute behind your wife. We want the whole world to know that we are in love. It's the most basic human need and want.
3. Politics
To be honest, it's really the people of Taiwan who bring forward the change you have seen today. They have been advocating for more than 30 years. The government is finally listening. So now, you are using numbers and figure to make your stand on this point. You know news is still just a news. The result has been confirmed. Gay are able to bring their love one to ROM and register their marriage together after 2 years. Why legalize? It's not solely for legal sex only. It's a legal protection to all the people who have stayed together for 60 plus years and you aren't seen as a family member because of some stupid rule that same sex aren't able to get marry. It's a protection to all the children that they have together. Both should have the legal rights to their own children. In case one partner isn't around, he or she has the parental right to take care of them.
That's all.
Congratulations! Taiwan!